New Dementia Resources
As part of their newly consolidated "Tools to Finish Strong," the national organization Compassion & Choices has launched a suite of new interactive Dementia resources to help you stay in control of your life and care even if a time comes when you are no longer able to make decisions for yourself.
The Dementia Values and Priorities Tool guides you through a number of potential scenarios and care thresholds to help you identify your personal values and care wishes and document them for your loved ones who may have to act on your behalf in the future. In under 30 minutes, you will have a printable and legally-defensible Advanced Directive Addendum to discuss with your healthcare proxies.
In the Dementia Decoder, you identify your worries—as either a patient or of a caregiver—about a new or potential dementia diagnosis and provides you questions to ask medical professionals to help empower you to direct your own care based on your values and wishes.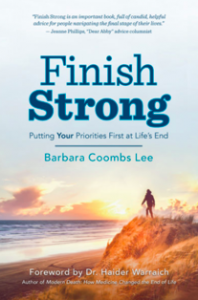 "One in three Americans will die with dementia…While it's not possible to accurately predict whether or not you or a loved one will be diagnosed with dementia, with proper planning and a strong healthcare advocate, it is possible to avoid needless suffering at the end of life." – Compassion & Choices