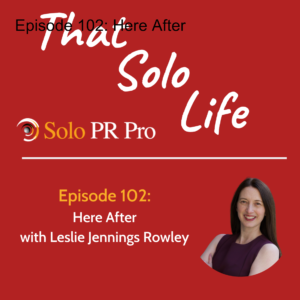 Media Update: Discussing End of Life Planning on That Solo Life
Hereafter Partners' founder Leslie Jennings Rowley speaks about end of life planning for solo marketing and public relations professionals on the podcast That Solo Life, with hosts Michelle Kane and Karen Swim.
---
On the podcast, Leslie discusses with the hosts:
How it's understandable that end of life planning isn't on the top of the To Do list, but how there's a potential productivity hit to the solo business owner if they don't tackle their end of life plan (or help their loved ones' do theirs)
How the end of life planning process actually gives clarity to how we live the life we have now
How PR/Marketing professionals' skills at connecting with people actually put them in an excellent position to start the conversation with their loved ones; and
What are the three (or five!) steps people can take today to start getting your end of life plan together
That Solo Life is a podcast about the topics that affect solo business owners in public relations and marketing and Marketing and beyond. It is co-hosted by Karen Swim, founder of Words for Hire, LLC and owner of Solo PR Pro and Michelle Kane, founder of VoiceMatters, LLC.